AIDA Spotlight - Meet Juan M Valdivia: A Neurological Surgeon and AIDA Medical & Science Committee Member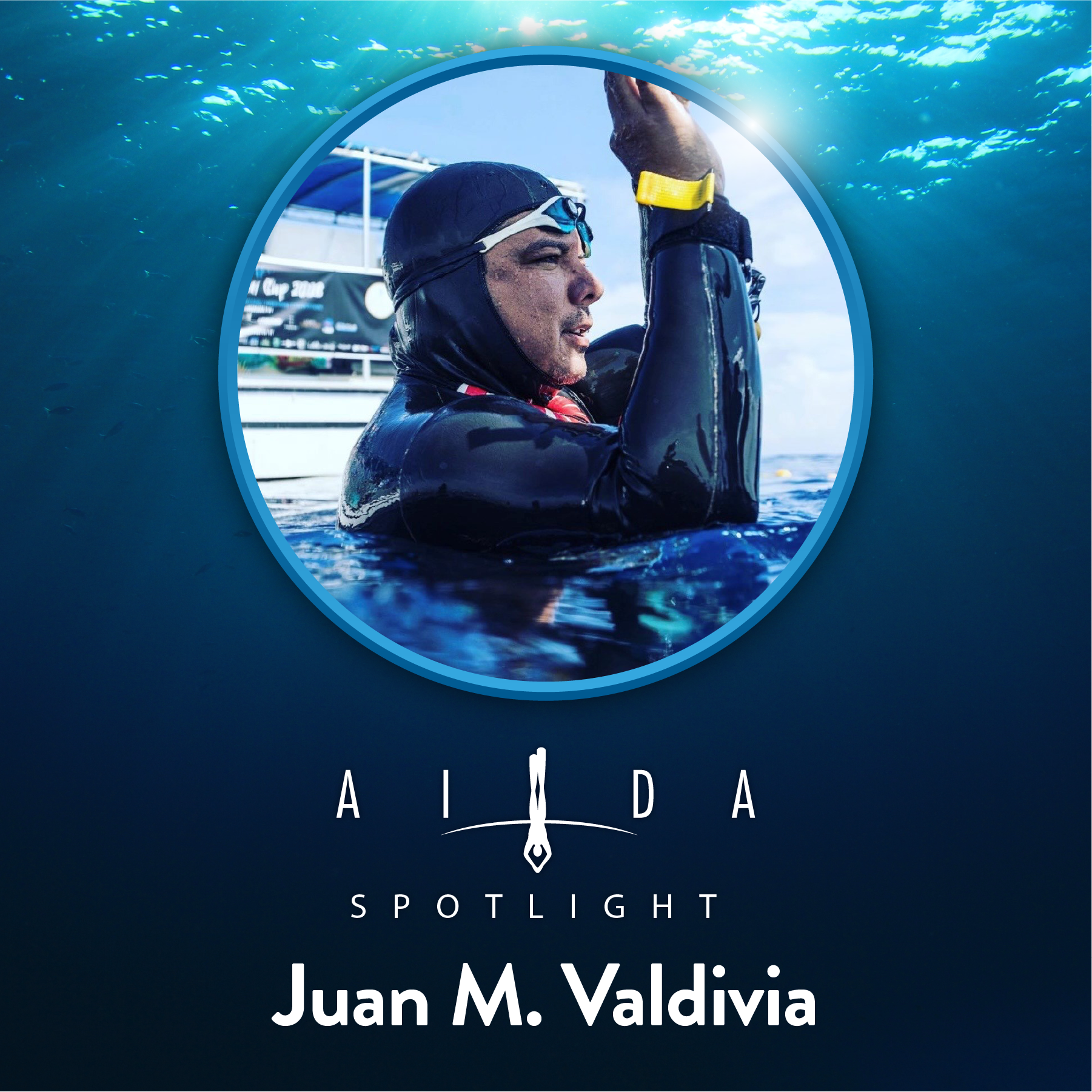 I have been freediving since December 2014 when I took AIDA 1 and 2 at Vertical Blue in the Bahamas. I started freediving because I was looking to find mindfulness. I also recognized the value of the "brain factor" in freediving, which sparked my interest due to my neuroscience background.
My favorite thing about freediving is that it allows me to be completely present and helps me become more aware of my thoughts and the here and now. Recently, it showed me the separation between thought and awareness, which is a groundbreaking concept to me. I also believe that freediving has helped me in neurosurgery by allowing me to be more present during the difficult parts of surgery. Freediving and neurosurgery are a lot alike because we use similar mental techniques for both: visualization, mindfulness, thought-control, awareness, and most importantly, FLOW psychology.
I love being part of AIDA because it lets me interact with like-minded scientists and athletes. AIDA offers me the chance to look at freediving from different angles and search for ways to contribute to the sport and help make it safer and more responsible. The safety and science part of the sport is a real passion of mine. When I saw my first blackout and loss of motor control back in 2014 during a competition, I thought to myself that I wanted to investigate this phenomenon more, and here I am today.
Initially, I started as a student and coincidentally met Carla Hanson at a competition. She saw my interest and introduced me to the AIDA Medical and Science Committee under the direction of Oleg Melikhov. My eyes were opened to a new world of scientific freediving that I was just drawn to. Slowly, I started looking at freediving issues from different angles, for example, trying to describe the clinical presentations of freediving-related hypoxia or the importance of an on-site neurological assessment in freediving.
I noticed some gaps and aimed to fill them, such as teaching non-medical freedivers to perform a basic neurological exam on other freedivers and assess the risk of decompression sickness.
Lately, it has been a pleasure to discuss medical and safety topics with other experts such as Marco Consentino, Jeroen Van Haudt, Oleg Melikhov, Fred Lemaître, and many others from whom I am lucky to learn.
This year, I presented two posters at the Undersea and Hyperbaric Medical Society (UHMS) Annual Scientific Meeting 2021. The poster topics were on the statistics of freediving-related hypoxia in competition over ten years (2009-2019) and the basic mini-neuro exam tool for freedivers. I named AIDA as the main institution for these two presentations.
I also had the honor of giving an introductory lecture on freediving medicine to the PTDM physicians training in diving medicine, sponsored by the UHMS this year, and represent AIDA as the institution teaching American physicians about freediving.
I think AIDA has the minds and expertise to grow the sport with the safest guidelines and continues to be the symbol of freediving.